5 Paint Colors That Can Help You Sell Your Home For More Money
When you're selling your home in Lakewood, Long Beach, or any of the surrounding communities, it makes sense to want top dollar for it—and there are plenty of things that can affect its value, so it can be a little bit tough to strike the right balance.

New research suggests that a lot of a home's perceived value has to do with its interior colors, though.
5 Paint Colors (and Where They Belong) That Can Help You Sell for More Money
White is so early-2000s, especially when it comes to what buyers prefer. Sure, there's room in décor for white or eggshell shades—but for the most part, buyers want a home that's doesn't look like a sanitized laboratory.


Yellow Kitchens Can Bring in Up to $1,360 More
According to the research, a home with a yellow kitchen can sell for up to $1,360 more than home-sellers expect.


On the other hand, a white kitchen can sell for about $82 less than sellers expect.


The Color Psychology of Yellow
Yellow is a warm color that evokes feelings of happiness, optimism, and energy.


Tan Bathrooms Could Net You $283 More
If your bathroom is tan, oatmeal, or beige, it lends to a spa-like atmosphere—and it can bring in $283 more than it would if it wasn't painted in one of those colors.


A dark brown bathroom could lose you $469, according to the same research.


The Color Psychology of Tan
Tan is a neutral color, and it's great for a relaxing atmosphere.


Light Green Bedrooms Can Score You $1,332


From light green to khaki, a green bedroom is apparently attractive to buyers and can bring in $1,332 more than it would if it was a plain, neutral color.
Conversely, a dark brown bedroom seems least desirable to buyers, losing an average of $236 on the selling price.


The Color Psychology of Green
Green is a cool color known for its calming effect.
Purple Dining Rooms: Up to $1,122 Extra
Choosing the right shade of purple (royal purple isn't it) can net you up to $1,122 more than you'd expect. The most popular shades are mauve, eggplant, and lavender.


Slate or dark gray can cost you, though, up to $1,112.


The Color Psychology of Purple
Like green, purple is a cool, soothing color. However, it also helps spark creativity.
Gray Living Rooms Could Bring in $1,104 More
Unlike in the dining room, gray is popular in the living room—especially in a light shade or dove color.


Perhaps not surprisingly, an orange, terracotta-colored living room can cost you $793 at the closing table.


The Color Psychology of Gray
Gray is also considered a neutral color, which makes sense when it's in the living room—it's ideal as a background color and mixes well with just about anything else.
Are You Selling Your Home in Lakewood or Long Beach?
If you're selling a home in Lakewood or Long Beach, we can help. Call us at 562-708-3530 or 562-485-6075 to find out how we can help you sell your home faster and at a better price. We'll even give you a free home valuation so you know how much your house is worth on today's market, so call us today!
Looking for a new home? You can also explore our: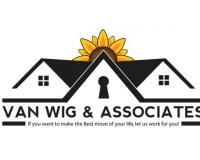 Author:
VanWig Associates
Phone:
562-708-3530
Dated:
June 16th 2017
Views:
68
About VanWig: ...